The pug is an adorable and loving small dog breed with a relatively long lifespan. Most pugs live between 12 to 15 years when taken care of properly.
So, Pug owners can usually expect to enjoy several years with their charming companions when they pay close attention to the health concerns of this breed.
Like most other dog breeds, Pugs are prone to certain health conditions. Common health concerns for pugs include skin conditions, tail problems, eye problems, breathing difficulties, and Pug Dog Encephalitis. Pug owners should watch out for any potential symptoms that could indicate that their furry friend is suffering from a health-related issue.
Here is a guide to the most common Pug health issues and what you should do if you suspect that your pup is ill.
Skin Conditions and Allergies
Pugs have very sensitive skin and tend to be susceptible to a variety of skin problems. The majority of skin conditions in pugs are caused by hormonal imbalances, parasites, trauma, weakened immunity, or food allergies. Skin problems can be annoying and uncomfortable for your pet and can cause some pretty offensive odors!
Atopy is a common skin condition that pugs suffer from. This condition is caused by specific seasonal allergies and typically causes extremely itchy skin. Ringworm is a parasitic fungal infection of the skin that commonly occurs in pugs with a weakened immune system. Bacterial infections such as Pyoderma are also very common in pugs. Pyoderma causes pus-filled pimples, blood blisters, itchy red bumps, rashes, foul odor, and hair loss.
The best way to prevent skin infections in your pet is to keep their skin clean and dry at all times. It is also a good idea to regularly inspect your Pug's skin folds and the areas between the toes. Any unusual smells and bald patches should also be investigated. If your dog is scratching excessively, it is usually a good indicator that they are suffering from a skin condition.
Allergy Supplements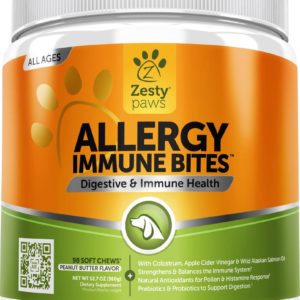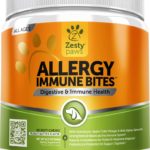 If your Pug's skin condition is caused by allergies a popular maintenance solution is chewable allergy supplements. Our pick is the Zesty Paws Allergy Immune Bites, a product with a whopping 650+ positive reviews on Amazon.
These bites are chewable grain-free treats that contain digestive and immune-boosting ingredients to promote a healthy response to food, skin, seasonal, and environmental allergies.
Tail Irritation
Pugs have curled tails that have a tendency to hold in moisture and attract fleas. Your pug cannot reach their tail to catch the fleas, so this causes the fleas to aggressively breed and feast on the area. Tail injuries are common when this happens because the irritation can eventually cause so much damage that the tail falls off. (Scary we know!)
It's a good idea to inspect your Pug's tail and look for any redness, blood, irritation, and flea droppings. If your pug is chasing or biting at their tail all the time, this can also indicate a flea infestation.
Eye Problems
Pugs have bulging eyes that are susceptible to infection and injury. This breed is very prone to corneal ulcers, dry eyes, cataracts, glaucoma, and distichiasis. Yeast infections can also occur in the area around the eyes. Common symptoms of an eye condition include redness, visible scratches, cloudy eyes, squinting, yellowish discharge, excessive blinking, dry eyes, and lines of pigmentation across the eye.
Eye conditions can eventually lead to blindness, so it's important to watch out for any abnormalities in the eyes. If your dog appears to be in discomfort or is scratching at the eye area, it may indicate that their eyes are bothering them.
Breathing Difficulties
That cute stubbed snout that your Pug has can also cause some serious health issues. Your dog's narrow nasal cavity makes them prone to various common breathing conditions. Pugs often suffer from an accumulation of debris and fluid in the nasal cavity, and this makes them much more likely to have breathing problems than other breeds.
A collapsed trachea is common among pugs. It causes the cartilage in your dog's windpipe to collapse. Pugs are also prone to an elongated soft palate, which causes the soft palate to obstruct the airway passage. Your dog may also be born with a birth defect called Stenotic Nares, which causes the nasal tissues to collapse and hinder the breathing process.
Symptoms of breathing difficulties in Pugs include coughing, sneezing, wheezing, reverse sneezing, dry hacking, and heavy breathing. Breathing conditions can be serious if left untreated, so it's important to take any unusual symptoms seriously and consult a veterinarian if necessary.
Pug Dog Encephalitis
Encephalitis is a serious condition that causes inflammation of the brain tissues. The cause for this condition is not known and it typically affects young to middle-aged Pugs. Encephalitis is almost always deadly, but there are treatment options available that can make your Pug's life more comfortable.
Symptoms of Pug Dog Encephalitis include seizures, behavioral changes, head tilt, neck stiffness, depression, lethargy, blindness, weakness, walking in circles, confusion, and lack of coordination. This condition often progresses rapidly and there is currently no cure for it. According to UC Davis veterinary laboratory, Pug Dog Encephalitis kills approximately 1.2% of all pugs. So it is extremely rare but certainly worth mentioning.
Medication can be used to manage the seizures associated with encephalitis and improve your Pug's quality of life. Epilepsy can often cause many of the same symptoms as encephalitis, so make sure you consult a veterinarian if you notice your dog suffering from convulsions or seizures.
Watch For The Signs
If you want your dog to live a long and healthy life, part of your job as a pet owner is to watch for any unusual health-related symptoms or changes in behavior.
Become familiar with your Pug's body and disposition and watch out for any changes that seem out of the ordinary. Health conditions are always easier to treat if caught early, so be aware of your pet's well-being and respond quickly to any concerns.