You don't have to brave the crowds on Black Friday to get a good deal. Instead, curl up with your beloved Pug and look at some of these online items! We've curated a list of the best Pug Black Friday gifts that the web has to offer.
The Dog Book Company has a range of gifts inspired by Pugs. Get up to 30% off all Pug products this Black Friday!
With its black hardcover, The Book of Pugs is so chic and stylish that you might be surprised to open it and find endless photographs of funny, goofy, and cuddly Pugs. It'll still be a great gift, however, for anyone with tasteful interior design. It's a coffee table book with enormous potential. The Pug journal is a great accompaniment!
---
---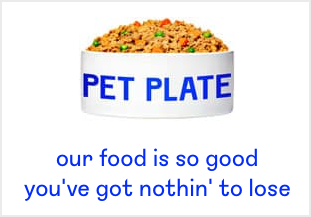 Does your Pug have a sensitive stomach? PetPlate's custom meals are delivered straight to your door in pre-portioned, resealable containers. The meals are just like what you would cook at home for your dog, with 100% real, human-grade ingredients.
Get 65% off your first two boxes this Black Friday!
---
---
The Whistle smart devices track your Pug's activity, health, behavior, location, and more. They're like a smartwatch for dogs! It's perfect if you're looking to increase your Pug's activity levels or lose some weight. Especially seeing they're offering 30% off all smart devices this Black Friday!
---
---
Made with imitation leather, this over-the-shoulder tote bag will be a stylish accessory for Pug lovers on the go. It has the aged look of a priceless vintage item, but its craftsmanship is thoroughly modern with reinforced stitching and water-resistant synthetic fabric. You can even customize it with your gift recipient's name for a personal touch!
---
---
This laugh-out-loud gift will be a great Black Friday find. Like its name suggests, it has a gnome saddled on a Pug like a brilliant steed, so it'll be a fun way for your friend to add something new to their garden. Who needs old, boring gnomes when you can have gnomes with personality?
---
---
From lockers and laptops to walls and water bottles, there are dozens of ways to decorate your space with stickers. It's fortunate, then, that there are dozens of stickers in this multi-pack! Each one features a Pug, so if you have a Pug lover in your life, this gift should be right at home in their stationery drawer.
---
---
This is one of those rare Black Friday discoveries that you'll want to scoop up as soon as you see it. Not only is it an awesomely radiant 3D lamp powered by internal LED lights, but it's shaped like a Pug, and that Pug is wearing sunglasses and declaring themselves a member of the "Pug Life." You can't find gifts like this just anywhere.
---
---
This gift is sure to get an "aww" as they unwrap it. It's an adorable female Pug wearing a polka-dotted bandana with her paws raised to form a heart. For extra functionality, her paws are actually a platform to hang sunglasses or eyeglasses, so she'll be a useful addition to any desk, shelf, or side table.
---
---
Available in gold, rose gold, and sterling silver, this necklace has a delicate charm-style pendant that perfectly reflects both its beauty and femininity. Many Pug gifts have a cute or comical style to match the personality of Pugs themselves, but this one takes a different approach. It'll be ideal for a Pug lover who's still stylish.
---
---
This is the kind of t-shirt that will require a second glance. From far away, it looks like it's printed with yellow dandelions losing petals to the wind; when you look a little closer, however, you'll see that the "petals" are actually Pugs! It's a memorable tee for sure.
---
---
This one is a little off-color, but if you're looking for something that'll be talked about for years to come, you've just found the perfect gag gift for a dog lover. It's a small statuette of a Pug hunched over to do its business. For extra laughs, pose it with a trail of brown M&Ms.
---
---
Puglicious is a simple, easy-to-understand game that you can start playing as soon as it's unwrapped on Christmas morning. It's suitable for all ages, and since the results are determined by luck, there are no ways to lie, cheat, or otherwise cause drama among the kids. It'll just be a cute and fun pastime for family bonding.
---
---
There's nothing like a plush pair of slippers to warm your toes on a cold winter morning. These are extra-adorable since they're shaped like Pugs, but their canine flair is only part of their value. The rest comes from their durable construction paired with their soft, cozy, and lushly padded fabric. If you're looking for a great Pug-themed Christmas gift, you've just found it.
---
---
With a colorful '90s flair, these scrunchies can serve as a blast from the past for older Pug lovers while still delivering the cool, trendy aesthetic of today's retro-style fashion. They come in a pack of four, so your gift recipient can rotate between different Pugs every day.
---
---
These soaps have such vivid detail that they're more like works of art than bath products. You can count their individual whiskers! Their fragrance is also to die for; they're made with karma, a patchouli that smells like orange, amber, and vanilla all at once. Your gift recipient will have an absolutely heavenly bathroom with soaps like these.
---
---
These are just a few Pug Black Friday gifts that you'll want to grab before they're gone. Whether it's for the upcoming holiday season or an occasion in the distant future, a Pug-themed gift is always the right answer.