Allergies are a great concern for all Pug owners. Unfortunately, Pug allergies can be caused by several things within the reach of your dog and which may appear harmless.
Though there can be severe cases of allergies, most are mild and can be prevented or diagnosed early with the right information. In this article, we will look at the common causes of Pug allergies, their symptoms, and how to prevent them.
Common Causes of Pug Allergies
Food Allergies
Food is the most common cause of allergies in Pugs. Your dog can be affected by certain elements in its diet. Most often dog food additives are the culprit. These could include artificial flavoring, food coloring dyes and synthetic preservatives found in most store-bought dog meals. Your Pug may also be affected by fillers such as wheat, soy, corn, and even grains.
Milk, eggs and certain proteins can also affect Pugs. Dogs generally have a high dairy intolerance. Their digestive systems are not equipped to adequately handle milk products. This could lead to flatulence, vomiting, and diarrhea.
Airborne Allergens
These are allergens that can be inhaled. The most common airborne allergens are dust mites and their droppings. There are however other airborne allergens such pollen, weeds and even certain types of grass. Fine particles from pesticides, perfumes and air fresheners are also a likely cause of allergies for your Pug.
Contact
Your Pug may also develop allergies as a result of contact with different things in its environment that may seem harmless. These are things like toys, fabric and plastic bowls.
Symptoms Of Pug Allergies
Ear Scratching
If your pug is constantly scratching its ears, it may have an ear infection caused by an allergy. Ear scratching may seem like a normal canine habit, but there is always an underlying reason if it persists. There may also be a smelly residue in the ear. Yeast infections could also be brought about by allergies.
Paw Licking
This is the most unnoticed symptom as it may seem like your pug is self-grooming. When your furry friend licks its paw, it means it has an itch. Depending on the severity of the itch, licking can be occasional or even become extreme. It can sometimes lead to biting which is dangerous. It is prudent to check between the paw pads any time you notice this behavior. Check for skin color distortions, moisture build-up, and skin breakages. Normally, these are bacterial infections caused by allergens.
General Body Scratching and Biting
Any time your pug seems to scratch or bite itself is a general indication of discomfort. Excessive scratching can lead to skin breakages and can lead to infections. If you notice hot spots around the inside of legs, neck, chin, and tail, your dog could be suffering from an allergy. Hotspots can spread quickly and become serious if left untreated.
Rubbing of the Face
Skin irritations in a Pug's face folds can at times occur. This will cause your dog to rub it's face using its paws or even rub against the carpet, furniture, and walls. An itchy face may be worth a trip to the vet.
Coughing and Sneezing
This is most often caused by airborne allergens and can be very severe if left unchecked. It requires medical attention if it persists.
Gastrointestinal Response
Food allergens can cause diarrhea, vomiting and extreme flatulence. If your Pug is unable to digest its meal, it may become dehydrated or develop pancreatitis or other serious medical conditions.
How to Treat Pug Allergies
Get rid of plastic food dishes and toys.
Wipe off your dog with a wet towel every time they come into the house. It is easy for them to pick up allergens when playing outdoors. Accumulation of some allergens on their skin can trigger an allergic reaction.
Treat hot spots with either lotions, sprays or allergy shampoos.
Vacuum the house on a regular basis. These can eliminate allergens such as mites.
Apply quality paw wax on a weekly basis.
Switch to 100% wholesome foods or to home cooking.
Allergy Supplements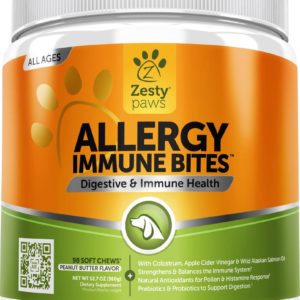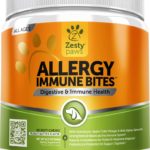 One popular allergy maintenance solution for Pugs is to feed them chewable allergy supplements. Our pick is the Zesty Paws Allergy Immune Bites, a product with a whopping 1,700+ positive reviews on Amazon.
These bites are chewable grain-free treats that contain digestive and immune-boosting ingredients to promote a healthy response to food, skin, seasonal, and environmental allergies.
Wrap
Keen observation skills, proper hygiene, and some simple habits could go a long way in ensuring the health of your Pug and can save you constant trips to the vet.